When I reviewed the many sound initiatives in the Achievement Gap Plan (AGP), I came to think that a piece was missing.  The plan addresses the need for our teachers and schools, our community partners, and our parents all to do their part to assist in the academic achievement of our students.  Nowhere in the plan, however, do we acknowledge the basic fact that ultimately our students are the ones responsible for their own learning.
The only way students who are behind will be able to catch up is by putting in the time and effort necessary to expand their learning and increase their skills.  It's pretty simple.  If we are to narrow the achievement gap in the sense that we expect students of color to achieve at the same level as white students – and not merely expect that a higher percentage of students of color will achieve proficiency as measured on standardized tests – then the students of color will have to work harder than the white students in order to make up the ground between them.  There is simply no other way.  The white students aren't going to just sit around and wait for the others to reach their level.
I have heard from a number of teachers and volunteers in schools that the most common reason students fail classes is that they simply don't do the work that's necessary to pass.  Students may be bright and actively participate in class discussions, but if their attention to the subject begins and ends during class time, they are unlikely to do well.
This holds true for all students, of course.  But our students of color are doing markedly worse than our white students – that's what the achievement gap means, after all.  So it is indisputably the case that it is more common for students of color to be holding themselves back by skimping on the necessary effort outside of class.  We need to be thinking of ways that this might be changed.
This got me to thinking that we as a school district do not seem to have any established expectations as to the amount of work that we expect our students, and particularly our middle and high school students, to do outside of the classroom.  To state the obvious, students are unlikely to be successful unless they study for tests, do homework, and write papers on their own.  We ought to acknowledge this fact and put some structure to it.
A 2006 Duke University study concluded that homework does have a positive effect on student achievement and the positive correlation was much stronger for secondary students — those in grades 7 through 12 — than for those in elementary school.  "With only rare exception, the relationship between the amount of homework students do and their achievement outcomes was found to be positive and statistically significant," says the report in the spring 2006 edition of "Review of Educational Research."
A common rule of thumb seems to be that first grade students could be expected to do ten minutes of homework a night and the amount should increase by ten minutes for each grade.  So, an hour of homework a night should be expected by sixth grade.  Freshmen in high school should be looking at an hour and a half and seniors should be putting in two hours a night.  This makes sense to me.
I think it would be useful to adopt a district policy spelling out homework expectations for our students that are in the same ballpark as the ten-minute rule.  Parents want to help their children succeed in school but often feel they don't know how they can be helpful.  Having a sense of how much homework their children should be doing would help parents know how to structure their encouragement.  As President Obama has urged, parents could turn off the television and carve out time in the evening for homework. The ten-minute rule could serve as a rough guide for how long that homework time should last.
Teachers of course would play an important role in this as well.  They need to assign homework, make it useful rather than busywork, and make it appropriately challenging.  I am probably not the only parent whose child complained of high school homework that entailed the use of crayons.
Teachers also need to provide feedback on the homework their students do so their students will know that the work matters.  It would be helpful for teachers in the same grade to collaborate so that the work is spread out fairly evenly rather than big assignments in a number of classes all coming due on the same day.
Returning to the achievement gap plan, I understand that exhorting students of color to work harder falls a tad short as a strategy. We should be looking for ways to ease the obstacles to successfully completing work outside of the classroom that many of our students of color face.
Specifically, we should do our best to support our community partners, like the Boys and Girls Club and neighborhood centers, that offer after-school homework help to the students they serve.  We should support "community school" initiatives to keep some of our schools open at night as hubs for community activities, including tutoring and assistance with homework.
We should support programs like AVID that promote the expectation that students will put in the time outside of class that is necessary to excel and that help students figure out how to get that done.  We should expand AVID to the middle schools, as the AGP recommends, so that students will have developed their work habits by the time they start high school. (We know that ninth grade performance is critical to high school success.)
We should crib a component from the Madison Prep plan and try to make sure that identified teachers are available by phone in the evening so that students who are stumped by their homework can call for help if they don't have parents or others around who can assist them.
We should support a Parent University, also proposed in the AGP, that offers useful and realistic information for parents about what students need to do outside of the classroom to be successful and how parents and others can support their students' efforts.
The achievement gap is a complicated problem and we have to pursue other strategies as well, of course.  We need a big push to help all students read by third grade since students can't thrive if they lack the basic tools of learning.  We need to make our curriculum more engaging, particularly for students of color.  We need to diversify our work force.
But we don't need to overthink the homework point.  If students want to do better, they'll have to work harder.  A lot of that work has to take place outside of school hours. We ought to be clearer on what we expect in the way of homework and then figure out ways we can help all our students – and particularly our students of color – live up to those expectations.
This entry was posted in Uncategorized. Bookmark the permalink.
MobyMax's Amy Weiss was thrilled to see Florida elementary school teacher Trisha Quattrocchi tweeting to celebrate her students' impressive achievement: 100% mastery of 5th grade math. What could be the secret to her class's success? Here's how Trisha explained it herself:
Trisha:
I am a 5th grade math teacher at Lake Magdalene Elementary School. None of my students are in AGP, but they are a seriously dedicated group of learners. Our focus is on mastering 5th grade standards, and boy, do we celebrate when we do!
We start out the year with a pretty classic testing process: in September, the students took their county formative tests and a MobyMax placement test. I used the formative test results to assign specific lessons in MobyMax.
Every six weeks since then, I have had students take another MobyMax placement test to see where they'd improved and if they'd mastered standards they previously missed. I also use the test results to create mini groups and assign leveled "exit tickets" using both Kahoot and paper quizzes.
Celebrating Progress
Each quarter, I hold award ceremonies for my two classes. Using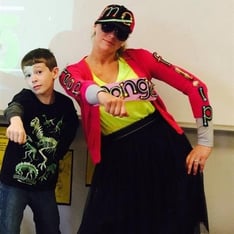 Moby's contest feature, we recognize their gains in math, measured in both percentages of improvement and actual points for the year. Some of the awards this year included Most Improved and Extracurricular Awards. And, since MobyMax covers all K-8 subjects, I hold additional contests and give awards in other subjects, such as Science.
We celebrate a particular student when he or she masters 5th grade math standards by dedicating a day to that student. So far, 16 students have reached this goal!
The celebrations are very exciting. At the beginning of the year, I asked the kids what the theme song of their life is. On the day a student reaches 100% mastery, I sneakily have him leave the room, then use giant letters to make signs spelling out his name. I have a bunch of pictures in folders from the year, and I do a fast upload into Animoto or Flipagram, using his theme song as the sound track.
Then, all the other students in the class line up and raise their hands overhead to make a victory tunnel. When the achieving student returns, he dashes through the tunnel to cheers and laughter. He's given a special 100% Club hat and a yummy Take5 candy bar, since our theme is "Take the 5th Grade by Storm." He also gets a homework pass and a special letter. One of my favorite parts of the celebration is when I call the parents with the great news of their child's accomplishments.
The student loves the limelight and recognition, and even something as silly as a candy bar makes him feel like his hard work paid off.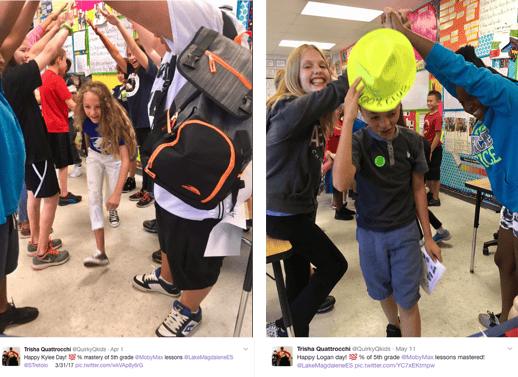 The celebration doesn't stop there. At the end of the year, we host our big 100% Club pizza party. This school year, in my two classes, 21 of our 5th graders achieved 100% mastery of MobyMax 5th grade lessons, and 6 of our 5th graders achieved 100% mastery of 6th grade lessons! These students were so excited to see the video featuring all 100% Club members!
Setting The Tone At The Beginning of The Day
One reason why my students have improved so much is because of the sheer amount of time they spend on Moby at home. In class, I also use Moby SRS or Kahoot to quickly understand where each student stands on a given topic before starting to teach. I begin each day with 5 questions on a topic we'll be covering. Based on the students' response, I can group them into mini groups, since there's no reason to have all students doing the same thing.
This is also a good way to make sure they're retaining what they're learning periodically throughout the year. Think about this: they do a Geometry and Volume lesson in September and never cover it again until testing time, when they are expected to remember it. By using MobyMax, I can continually check for understanding and retention and easily assign relevant work throughout the year to make sure they achieve (and keep!) mastery.
The fact that so many students have not only attained 5th grade math mastery but are already working in 7th and 8th grade math creates an overwhelming sense of team accomplishment in my class.
But it's also inspired me to want to do more; to help all my students achieve to their full potential. What more can a teacher ask for?